Every year, billions of dollars' worth of construction equipment is stolen around the world with only a 10-20% recovery rate. Monitoring and protecting your assets is vital to any organisation in any industry, and construction is no exception. With heavy equipment and machinery averaging at ,000 USD each, we cannot afford to leave construction sites poorly secured. A
comprehensive telematics system
is the perfect solution with many additional benefits. Not only will it protect your assets from theft, but it will also improve maintenance, project planning, task management, employee productivity, and fuel consumption.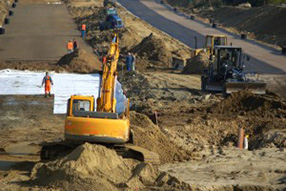 The GPS tracking device attached to vehicles, machinery, and equipment will collect their location information as well as CAN-bus, driver behaviour, and fuel level data. Analysing this data will allow you to optimise maintenance schedules that will minimise vehicle down time, reduce fuel consumption, detect fuel theft, and minimise costs on repairs and excess fuel – all leading to a better bottom-line. Knowing how long tasks take to complete will help you plan project timelines better, and this increase in efficiency will open up more time for you to focus on the daily operations of your construction company. ENAiKOON has a trusted telematics solution that has been tried and tested by many construction companies. Here is what one of their customers had to say about their construction equipment monitoring system:
Construction equipment monitoring at Rühlmann-Bau
Rühlmann-Bau
is a medium-sized construction company in Saxony-Anhalt, Germany. They have a large, modern machine park with a variety of specialised equipment, such as horizontal and vertical drills and asphalt packers. In total, there are about 120 units in constant use which need to be correctly coordinated and protected from theft. The more staff they have on the road, the more important it is for the smooth communication between the dispatcher and foreman at various construction sites. In March 2009, the first machinery equipped with the ENAiKOON starter package was tested. The benefits of construction equipment monitoring were quickly recognised by Uwe Rühlmann, CEO of Rühlmann-Bau. "For me, it is important to have all of our units equipped with ENAiKOON devices," says Mr. Rühlmann. "First, because I can coordinate and control what is being deployed better and where it is at all times, and second, because I want to treat all of my drivers equally." That following May, Mr. Rühlmann implemented the devices on all company machinery and since then have not experienced any theft or misuse.
The ENAiKOON construction equipment monitoring solution
Every construction company has to protect their assets, whether it's equipment, vehicles, or their people. Whatever your needs may be, ask an ENAiKOON telematics expert for advice on equipment security using their reliable range of devices and software. Manage your assets and people better so that you can decrease costs and eliminate theft. Contact
ENAiKOON
today for your free trial.