Construction asset management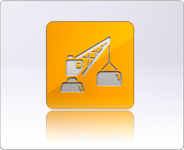 Company
Rühlmann-Bau GmbH,
Apenburg-Winterfeld, Germany
Uwe Rühlmann, CEO
Sector
Construction
Background
Founded in 1987, Rühlmann-Bau GmbH Winterfeld is a medium-sized construction company in Saxony-Anhalt, Germany.
Problem
The company has a large, modern machine park with a variety of specialised equipment, such as horizontal and vertical drills and asphalt packers. In total, there are about 120 units in constant use which need to be correctly coordinated and protected from theft. The more staff they have on the road, the more important it is for the smooth communication between the dispatch and various construction sites.
Solution
In March 2009, the first vehicles equipped with the ENAiKOON starter package were tested. The following May, they implemented it on all their vehicles. "For me, it is important to have all of our units equipped with ENAiKOON devices; first, because I can coordinate and control what is being deployed better and where it is at all times; and second, because I want to treat all of my drivers equally."
Conclusion
The construction manager will always know where his equipment is and whether it is currently in use. ENAiKOON provides an accurate readout of the vehicles' positions.
The following devices, accessories, applications, and plugins were used for this solution: