ENAiKOON locate-15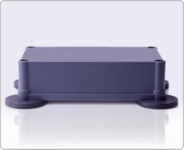 With a battery life of up to 10 years, the ENAiKOON locate-15 is our most robust and durable GPS tracking device.
In the field
In the logistics industry, it is used for portable trailers, trailers, and containers. It is used in the recycling and construction industries for containers, waste presses, and construction equipment.
Bachelor thesis
in the course "Forstwirtschaft" an der Hochschule für angewandte Wissenschaft und Kunst, Göttingen created by Tim Eickmann, 02.05.2012
This bachelor thesis may only be published in the version submitted by the author. Any edits, changes, and the like are not permitted. Other uses must be approved by the author.
Main features
Receive GPS positions of tracked items from this device with one or more position reports per day. It also allows you to see the location of the device in real-time on the map in inViu. There is no need for an additional external power source as it uses batteries. A variety of long-lasting replaceable batteries are available separately. It is available in a light-weight housing with screws or magnetic feet. A potted version filled with epoxy is available for situations requiring additional strength against higher mechanical stress.
Technical details
size: 150 x 41 x 80 mm (5.90 x 1.60 x 3.15 in)
weight: 480 g (17 oz)
integrated GPS and GSM antennas
battery life that lasts up to 10 years (with one position report per day)
rugged and waterproof housing (IP 66K)
vibration sensor by G-force sensor for power-saving operation
epoxy potted version available
Made in Germany
Packaged combos
Mobile phone software