ENAiKOON
inmarsat-600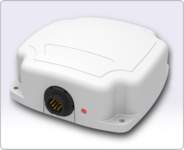 The ENAiKOON inmarsat-600 is a powerful monitoring device designed to track and collect data from mobile objects anywhere in the world, even in regions with no mobile communication reception.
In the field
Used for construction machines, cars, containers, dangerous freights, ferries, fishery fleets, hot air balloons, halls, houses, helicopters, industrial plants, pipelines, piping, and police cars. The possibilities are endless!
Main Features
This device offers surveillance, remote control, and positioning of any mobile object anywhere in the world. It can collect and analyse data with no GSM network using
Inmarsat
, a global mobile satellite service provider. The operating cost is comparable to mobile communication costs worldwide. The two-way satellite data transmission is integrated to provide data such as temperature, pressure, sensor state, speed, directional, and height information.
Technical details
the world's smallest two-way Inmarsat terminal:
126×126 mm (4.9×4.9 in)
H 49 mm (1.93 in)
low power consumption ideal for battery powered applications
wide temperature range:
-40 °C to +85 °C
(-40 °F to +185 °F)
maintenance-free with a very long lifecycle