Construction equipment rental tracking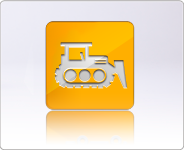 Company
Eberle-Hald Handel und
Dienstleistungen GmbH & Co. KG
Metzingen, Germany
Michael Busch, rental manager
Sector
Construction
Background
Eberle-Hald is one of the biggest construction equipment rental companies in Stuttgart, southern Germany. They have been using ENAiKOON's telematics solution since 2007. Since then, more than 100 GPS devices are being used in nine different branches.
Problem
"Access to equipment data, such as operating hours, battery condition, and loading times, at any time is of the utmost importance to us. If technical problems occur, our emergency service staff will need to quickly identify the problem in order to make the equipment operational again. Furthermore, the ENAiKOON telematics system enables us to produce rental contracts precisely. Among other things, we can account for the notification of equipment availability to the exact day when preparing the invoice."
Solution
With inViu pro, Eberle-Hald was able to meet all of their needs regarding alerts and information for their rented equipment. They even took ENAiKOON's inViu pro web portal one step further and integrated it for their customers to use. They gave their customers the option to see which equipment at which site is currently being used. This way their renters have the complete billing information to give to their own clients.
Conclusion
With the inViu pro software application, you can instantly see which machine was on what construction site and for how long it was there.
The following devices, accessories, applications, and plugins were used for this solution: