ENAiKOON
camera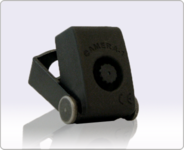 The ENAiKOON camera is the perfect accessory for any of the ENAiKOON tracking devices.
In the field
This camera, along with a locate device, can be used by any company requiring enhanced surveillance of valuable trackables, e.g.
timber theft
Main features
Extremely small and discreet, this camera can be programmed to automatically take event-triggered photos according to pre-defined specifications (e.g. when the engine is left running or when an ENAiKOON tracking device with a vibration sensor triggers the camera). These pictures are immediately sent to inViu and can be viewed live from a remote location.
Technical details
size: 40 x 30 x 20 mm
(1.57 x 1.18 x 0.79 in)
weight: 36 g (1.27 oz)
resolution: 640 x 480 pixels
infra-red range photos available
(night vision)
Packaged combos
ENAiKOON camera +
ENAiKOON locate-06
+
inViu pro
= keep a watchful eye on your valuable assets, and have visual verification when needed, save time and money.