ENAiKOON
case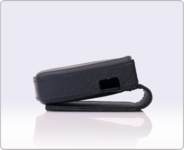 Small and elegant, the
ENAiKOON case
for
ENAiKOON locate-19
is used to safely carry the device when on-the-go, on a biking tour, climbing, or monitoring children.
In the field
The case is used for the locating, monitoring, and surveillance of people with the locate-19 tracking device. It is particularly useful for outdoor enthusiasts going to remote areas on hikes, or for small children or seniors that require protection.
Main features
The cases are available in black nylon or durable black leather. They can both be attached to a belt for ease of use.
Technical Details
Leather case
size: 70 x 45 x 20 mm
(2.76 x 1.77 x 0.79 in)
weight: 25 g (0.88 oz)
Nylon case
size: 70 x 45 x 20 mm
(2.76 x 1.77 x 0.79 in)
weight: 9 g (0.32 oz)
Packaged combos
ENAiKOON case +
ENAiKOON locate-19
= the perfect pair for on-the-go tracking with the case protecting the small GPS tracking device