ENAiKOON locate-19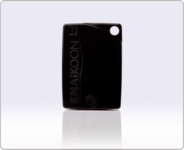 This is one of the smallest GPS / GPRS tracking devices in the world. The ENAiKOON locate-19 reports GPS positions of any trackable, such as vehicles, machinery, and people. Its conveniently small size and weight allows it to be used for any job.
In the field
Ideal for hidden installation within cars, small construction machines, motorcycles, outboard motors, delivery packages, objects that need to be monitored, and items at risk of being stolen. Used for monitoring people requiring extra security and protection, such as small children, seniors, and patients. It is also useful for the tracking and locating of animals.
Product variation

ENAiKOON locate-19 with a small, waterproof housing (IP 67) and water-resistant electrical connection: only 77 x 49 x 35 mm (3.03 x 1.93 x 1.38 in)
Main features
This is a ready-to-use tracking device with no manual installation required. It measures precise GPS positions of any mobile object. Used for theft protection and security, its rechargeable battery and internal antenna makes the device easy to use in any situation. It includes an emergency call button that allows you to make phone calls when necessary. When there is no mobile connection, it has the ability to save positioning data which can be accessed through
inViu web
or text message (SMS).
Technical details
size: 53 x 38 x 16 mm (2.09 x 1.50 x 0.63 in)
weight: 40 g (1.4 oz)
highly sensitive 65-channel GPS receiver
vibration sensor by G-force sensor for power-saving operation
integrated antenna for GSM and GPS
battery 550 mA/h 3.6 V
storage available for 4,000 sent positions
storage available for 4,000 geofences
configurable button (e.g. SOS button)
Made in Germany
Packaged combos
ENAiKOON locate-19 +
inViu web
= pinpoint GPS tracking, status update alerts when a geofence is entered or exited, battery alerts, and the last one hundred position status updates shown on the map
ENAiKOON locate-19 +
inViu pro
= pinpoint GPS tracking, geofence monitoring of trackables, battery alerts, automatic reports such as hours of operation, layover time per location, cost centre allocation, gives you a complete overview, and saves time and money
Optional accessories
Mobile phone software