Timber theft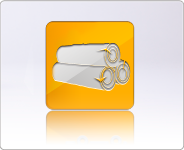 Sector
Forest Management
Problem
Within one year, a forester had suffered from a seven-digit financial loss directly attributed to timber theft. He hired a security company to deal with this problem. The security company monitored the forest perimeter but unable to consistently guard all the woodpiles in the forest at a reasonable cost. A technical solution was searched for and finally developed by ENAiKOON.
Solution
In just three months, the telematics device for woodpile monitoring: ENAiKOON locate-18 was ready for deployment. The solution consists of a powerful set of potted electronics, replaceable batteries, an adjustable vibration sensor, GPS receiver for localisation and a SIM card for GPRS transmission. Everything is contained in a tube-shaped housing, 17cm in length and 4 cm in diameter.

Holes were drilled into a log in the felled lumber piles into which the ENAiKOON locate-18 was inserted with the activated vibration sensor. Using a previously sawed thin wooden disc, they covered the drilled hole to make the device invisible to the eyes of potential thieves. Every lumber pile of the forester received this treatment. When unauthorised movement is detected, the tracking device transmit signal to the server which will then send alerts via e-mail and SMS to the audit company. Once the lumber pile is ready to be taken to the sawmill, the device can be simply taken out of the pile and be reused for the next pile.
Conclusion
Soon after the ENAiKOON locate-18 was installed, theft of lumber was discovered. The truck drivers who were contracted by the forester had taken an extra load after taking their scheduled load of timber. The thieves even brought the lumber to the exact same sawmill that took the normal shipments. This was a worthwhile investment for the forester: the timber thefts ceased and the timber thieves and their collaborators in the sawmill were convicted in court.
For more information pertaining to the study and analysis of timber theft and the solutions offered by ENAiKOON please click on the button below to read the university thesis "Diebstahlsicherung von Rohholz mittels GPS-gestützter Verfahren" by Tim Eickmann that was written about our timber theft solution.
The following devices, accessories, applications, and plugins were used for this solution: