ENAiKOON locate-18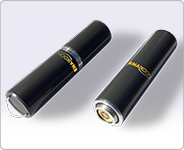 ENAiKOON locate-18 helps you reliably stop theft of your timber from your lumber piles or even in some cases as the theft is occurring. One of the logs in the pile is prepared with a monitoring device equipped with a motion sensor. Once motion is detected, the system sends an alert to the head office and / or mobile phones.
In the field
The device can be used in all forests and in timber or lumber yards, where a mobile network is available.
Benefits
stay informed 24/7 about timber location and timber theft
receive immediate information in case of unauthorized timber movement
keep the timber storage under control with a virtual geofence
real-time tracking of exact location and route of the stolen timber or lumber
low total cost of ownership
Main Features
suitable for all types of timber, long-term lumber or timber piles
alerts sent via SMS or email to smartphones or ENAiKOON web portal
batteries last more than 10 years
attach unlimited number of batteries to the device to increase number of GPS position reports per timeframe
no professional assistance or training required for battery replacement
plastic handle for quick removal of the device from the timber
access and control all tracking data online with
inViu web software – 2 years product warrantee included
Technical details
size:potted electronics w/o battery:100 x 40 mm (3.94 in x 1.57 in) 1 battery: 77 x 40 mm (3.03 in x 1.57 in) 2 batteries: 158 x40 mm (6.22 in x 1.57 in)
weight:potted device w/o battery:161 g (5.68 oz) 1 battery: 175 g (6.17 oz) 2 batteries: 350 g (12.35 oz)
integrated GPS and GSM antennas
one battery provides energy for up to 3,200 GPS position reports between -20°C and +60°C
rugged, waterproof housing and potted electronics for use in harsh environments (IP 66K)
3D G-force vibration sensor for motion detection and power-saving
Made in Germany
Packaged combos
ENAiKOON locate-18 +
inViu web
= pinpoint GPS tracking, status update alerts when a geofence is entered or exited, battery alerts, and the last one hundred position status updates shown on the map
ENAiKOON locate-18 +
inViu pro
= pinpoint GPS tracking, geofence monitoring of trackables, battery alerts, automatic reports such as layover time per location, cost centre allocation, gives you a complete overview, and saves time and money
Bachelor thesis
in the course "Forstwirtschaft" an der Hochschule für angewandte Wissenschaft und Kunst, Göttingen created by Tim Eickmann, 02.05.2012
This bachelor thesis may only be published in the version submitted by the author. Any edits, changes, and the like are not permitted. Other uses must be approved by the author.