We have yet another
inViu routes
update! The saga continues with a special new messenger feature that allows employers and dispatchers to communicate with mobile workers right in the app! If you're an
inViu pro
user you already know the features of the
messenger plugin
: you can create messages with work orders, driving destinations, and addresses and send them right to the drivers' navigation systems. Similarly, the inViu routes messenger does exactly this, but instead of sending messages to navigation systems they go directly to the employee's Android smartphones.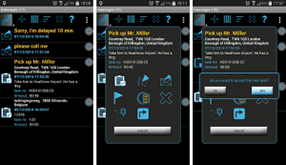 You may be asking yourself: "how is this helpful? Couldn't you just text message the employees?" Well, aside from the fact that you are saving tons of money by using smartphones for GPS tracking instead of a costly system that requires a tracking device and a navigation system, it also opens the possibility of applying GPS tracking to all types of mobile workers – not just vehicle drivers. Let's not forget that it also serves as a complete task, logistics, and employee management system, with backlogs and audit trails that can be exported from inViu pro, ENAiKOON's telematics web portal. If you weren't convinced that this is the perfect business app before, you will be now with the integrated communication system made available with the messenger plugin. Here are some of the features and benefits: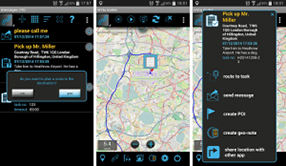 Easy communication and task management
This is the most important feature for managers. Tracking the internal communication and task delegation is key to controlling the workflow and minimising errors within a company's operations. With inViu routes messenger, all of your staff communication and tasks will be logged in inViu pro. Having an overview of all tasks and employee locations eases the dispatching process.
Clear job acceptance and verification process
Employees can easily accept tasks and respond quickly using predefined, editable status texts without leaving the app. This process is streamlined so that drivers can safely and easily communicate with the dispatcher.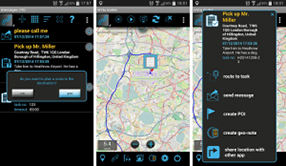 Convenient routing and navigation
What makes the inViu routes messenger unique is that you can send messages with an embedded destination address for specific driving jobs or location-based tasks within the app. The address will open up in the inViu routes map and further in a navigation app installed on the phone. This app would be ideal for any transport or logistics company wanting to make the switch from navigation systems to GPS tracking with smartphones. This comprehensive dispatching system only requires the use of the online software, inViu pro, and Android phones. As mentioned above, the use of smartphones makes dispatching and task delegation possible for all employees, not just for drivers. For instance, sales reps on foot can receive client location info on the go or bicycle courier companies can send all of their work orders to their employees' mobile phones. The messenger plugin can be activated with an additional monthly subscription along with inViu pro. With the subscription, all of your mobile workers will see the new "my messages" option in the main menu of inViu routes. Download the app in
Google Play
or
contact ENAiKOON
for additional information on the messenger plugin, inViu routes, or inViu pro.