ENAiKOON weight
sensor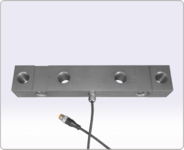 The ENAiKOON weight sensor is a telematics solution designed to make the work of the fleet manager much more easier. Gone are the days when vehicle tracking was only about where the vehicle is at any given time. The proliferation of theft of goods poses a threat to enterprise fleet management, hence the introduction of this solution.
This distinctive weight sensing system consisting of not just one but 4 well calibrated weight sensors, constantly monitoring weight changes in your vehicle load and reporting any changes in real time to the fleet manager.
The device is aimed at ensuring accountability and curtailing the menace of theft when your fleet is en route. An acceptable threshold is set, after which any changes in load weight are reported with the exact location of the truck and the timestamp.
The
ENAiKOON weight sensor solution
consists of 4 weight sensors, highly specialised weighing electronics and the required cabling coupled with either the
ENAiKOON locate-06
or the
ENAiKOON Inmarsat-600
telematics devices, all working in sync with
inViu pro
(ENAiKOON's highly secure telematics web portal).
Suspicious activity is recorded directly by the weight sensors. This data is then sent along with the GPS data from the
ENAiKOON locate-06
or the
ENAiKOON Inmarsat-600
to the ENAiKOON
inViu Pro
portal, where it is then processed to display on your computer, tablet or mobile phone web browser in real time. Special incident alerts are also reported in real time via e-mail/SMS.
In the field
The weight sensor has a wide range of applicability. It can be fitted in all load carrying vehicles including but not limited to tipper trucks, cement trucks, water containers, fuel tankers.
Main Features
Installation
a minimum of 4 fully calibrated weight sensors are installed on the truck
a signal amplifier is then installed
a tracking device is then added to the setup
a test is then conducted to ensure full functionality with the inViu Pro
Applicability
low energy consumption
Molex connectors for power and interface
7m connection cable
robust plastic housing
Technical Details
Maximum capacity: 7.5 t (16.5 klb) / 15 t (33 klb)
Accuracy class: GP
Temperature effect on minimum dead load output: ± 0.0400 (%*RO/10 °C)
Temperature effect on sensitivity: ± 0.0200 (%*RO/10 °C)
Combined error: ± 0.15%/±0.25%
Creep error (30 minutes) /DR: ± 0.0600 (%*RO)
Rated Output: 2 ± 1% (mV/V)
Zero balance: ± 1.5 (or better) %*RO
Excitation voltage: 5…10 V
Input resistance: 800 ± 50 ?
Output resistance: 700 ± 50 ?
Insulation resistance: =5000 M?
Safe load limit: 200 %*Emax
Ultimate load: 300 %*Emax
Safe side load: 100 %*Emax
Compensated temperature range: -10…+40 °C (14 °F – 104 °F)
Operating temperature range: -30…+70 °C (-22 °F – 158 °F)
Load cell material stainless steel: 17-4 PH
Sealing: complete hermetic seal
Protection in accordance with EN60 529: IP68 (up to 2 m (6.56 ft) water depth)
Cable: UV protected
Packaged combos
ENAiKOON weight sensor +
ENAiKOON inmarsat device
; remote monitoring outside the areas served by mobile phones (e.g. oceans, rain forests, deserts, the Arctic, etc.).