ENAiKOON locate-03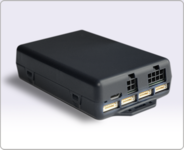 The ENAiKOON locate-03 was designed with one objective in mind: to offer a simple and reliable GPS/GPRS tracking and tracing device at the lowest possible price. Affordable and convenient, the integrated antenna allows for an easy installation onto any vehicle.
In the field
Used by an array of companies in the following industries: public transportation, cleaning service, security guard, logistics, health care, and nursing home.
Main features
This device is used to obtain the GPS positions of vehicles and other mobile objects. It can create status reports of the tracked object, including the vehicle's operating time and employee's shift hours. It also has the ability to immediately send accident details to inViu. This light and small GPS device is easy and convenient to use.
Technical details
Size: 85 x 54 x 23 mm (3.35 x 2.13 x 0.9 in)
Weight: 102 g (3.59 oz), incl. cable
Integrated GSM / GPS antenna
Internal Battery 1050 mA/h
Operating temperature: -20 ºC to +85 ºC (-4 ºF to + 185 ºF)
3 digital inputs
1 digital output
vibration sensor for low-power operation
66-channel GPS receiver
12 V – 32 V direct current
Memory for approximately 10,000 positions and status messages