ENAiKOON locate-04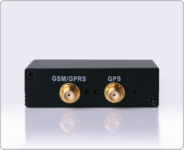 With precise tracking, remote control, and monitoring capabilities, the ENAiKOON locate-04 is our clients' favourite GPS tracking device. It delivers a cost-effective solution for basic tracking needs with the added feature of data collection. Information such as driver behaviour, speed, and route deviation can also be collected from every trackable.
In the field
Generally used by courier and freight companies in the transport and logistics industries. In addition, it is often used by public service entities and construction companies to track fleet vehicles and equipment.
Waterproof version

ENAiKOON locate-04 with a waterproof housing
Main features
Offering pinpoint GPS positioning, the locate-04 collects important information (such as the direction and travelling speed of the mobile object) for each trackable. It can improve fleet management through better coordination of employees and vehicles. This device will easily collect the working hours of employees and the length of their shift at each job site. With so many functions and time-saving features available, it can greatly reduce your operating costs.
Technical details
size: 80 x 67 x 20 mm (3.14 x 2.64 x 0.79 in)
weight: 145 g (5.11 oz)
2 digital inputs (for ignition data, work hours, etc.)
1 digital output (with 200 mA/h)
vibration sensor by G-force sensor
1 wire connection for driver-id
serial interface
65-channel GPS receiver
quad-band GSM model
emergency battery 560 mA/h
E-4 approval
power supply 8 V to 32 V
Made in Germany
Packaged combos
ENAiKOON locate-04 +
inViu web
= pinpoint GPS tracking, theft prevention, and security.
+
ENAiKOON inmarsat-600
= remote monitoring outside the areas served by mobile phones (e.g. oceans, rain forests, deserts, the Arctic, etc.).
Optional accessories
ENAiKOON driver-id
ENAiKOON antenna
Mobile phone software