inViu
NFC-tracker
inViu NFC-tracker reads data from NFC-TAGs and sends that data to the ENAiKOON's inViu server. With inViu pro plugins, like staff-tracker and tour-checker, this data can be analyzed for various purposes. Users of the NFC-capable phone can log in with a personal PIN, allowing the data to be assigned to its users.
In the field
Generally used in industries with many mobile employees who always work at the same locations, such as facility management, security services, cleaning companies, drivers, health care, and infrastructure inspectors. NFC-TAGs are used in all industries for inventory and logistics management (e.g. checking deliveries during loading and unloading).
Example:
A cleaning company has many mobile employees who need to regularly empty the bins in a park.
Problem:
Some bins are often forgotten and not emptied. You do not know if and when the bins were last emptied, but you need this information to prove to your client that the work was completed.
Solution:
Attach an NFC-TAG to each bin. These tags have individual information loaded on them, such as the location of the next bin that should be emptied. In inViu pro, each NFC-TAG is assigned a specific location (geofence), so that you can forgo the use of GPS; this is helpful when the locations are inside of a building with weak GPS reception. Each employee must receive an NFC-capable mobile phone during their shift. Employees would log in with their personal PIN and read an NFC-TAG once they have completed the corresponding task. The mobile phone will then display that the tag has been read and show the information from the tag.
Evalutaion:
The unique ID number of the NFC-TAG is immediately sent to the inViu servers with a timestamp and the employee PIN. In inViu pro, you can see which employees read which tag and when. The various analysis options in inViu pro allow you to set parameters, such as the length of time to complete a job, the location, order, punctuality, and many other processes. With the tour-checker plugin, you can define a job order with fixed deadlines for different locations; an e-mail alert will be sent if one or more location-specific tasks are not completed at the scheduled time.
employees are assigned a personal PIN – an NFC-capable mobile phone can be used by different employees
fast and easy readout of the stored data on the NFC TAG – the TAG can store text, URLs, contact information, instructions, etc.
NFC TAGs can be permanently assigned to a defined location (geofence) in inViu pro – this is possible even without GPS reception (e.g. in buildings with multiple floors)
saves the data collected in the app when there is no mobile phone connection – will not lose the data
test function – read TAGs for planning work order without transferring the data to the server
General information
available languages: English, French, German, and Spanish
change font size in settings
change vibration time in settings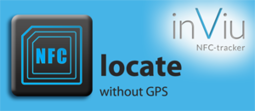 Packaged combos
inViu NFC-tracker + inViu pro + ENAiKOON staff-tracker + ENAiKOON tour-checker = the perfect cost-effective solution to manage and track the activities of mobile employees with data updated in real-time.
The app inViu NFC-tracker can be downloaded in Google Play:
A similar app for the reading of NFC-TAGs and viewing the data in inViu web / pro can be found here: