ENAiKOON
rfid-tracker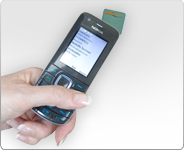 The ENAiKOON rfid-tracker is a mobile app designed to locate and monitor any trackable in order to efficiently manage and improve business operations.
In the field
Used by municipal sanitation workers, security guards, special events staff, and drivers in the trucking, taxi, and courier industries.
Main features
Use this app to monitor mobile employee activities and create reports for working hours, maintenance, and inventory management. It is effective for real-time work progress monitoring and project management. As the app works with RFID technology, GPS devices or GPS reception is not required.
Technical details
The ENAiKOON rfid-tracker has two options for monitoring:

Employee-based tracking:
have the employee carry the tracking equipment. Employees are equipped with RFID-enabled mobile phones that can scan tamper-proof radio chips embedded into objects located at points of interest (POIs).

Location-based tracking:
install the tracking equipment onto objects located at POIs. Objects would be equipped with a reading device where employees can swab their tamper-proof radio key fobs.
Packaged combos
ENAiKOON rfid-tracker + ENAiKOON staff-tracker + inViu pro = rapid detection and monitoring of location-based tasks and activities
Find a similar app for creating NFC-TAGs and sending the data to an inViu web or inViu pro account here: