ENAiKOON
buddy-tracker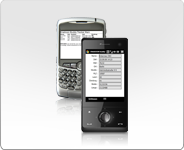 The ENAiKOON buddy-tracker was designed to locate any trackable such as vehicles, mobile objects or persons, making remote management of an entire team or fleet possible.
In the field
Used for transport and logistics in a wide range of industries, including agriculture, delivery and courier, sanitation, construction, and property management.
Main features
The buddy-tracker can track the GPS positions of trackables, such as vehicles, employees, construction equipment, and other mobile objects. Moving or idle, the app will display current statuses of trackables. Tracked objects are always displayed as well as their distance to the user. The last GPS position or address received is also displayed with a time stamp. Find further details on the map in inViu pro / web by clickling on the trackable.
Technical details
Compatible with Windows® Mobile 6.5 and Blackberry®
Please contact us to find out our app's compatibility with your mobile phone.
Packaged combos
ENAiKOON buddy-tracker + inViu pro = an overview of all trackables for secured data control and improved task management
Find a similar app for receiving position statuses of trackables from inViu web / pro on a different operating system here: