ENAiKOON
display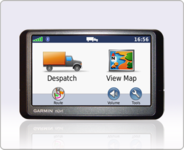 To optimise the daily operations of a business it is crucial to streamline the communication with employees. ENAiKOON displays were designed with this in mind, offering clear and concise written communication with mobile employees. The devices in the ENAiKOON display family are rugged as they were designed for use in vehicles and come with the option for a keyboard or a touch screen for written communication between the dispatcher and drivers.
Main features
Using GPRS, it can receive up to 20 pre-defined status messages including a confirmation and send status reports to the control centre or dispatcher. Status reports include traffic, loading / unloading time, accident, break, and message receipt confirmation.
Display – Product range
LCD screen with 4 lines of 20 characters
size of LCD screen:
75 x 25 mm (3 x 1 in)
colour of the display: blue
size: 180 x 57 x 30 mm
(7.08 x 2.24 x 1.18 in)
2 programmable LEDs
power supply: 5 V – 31 V DC
power consumption at 12 V : 60 mA (illuminated)
power consumption at 12 V : 20 mA (backlight off)
entry of numeric / alphanumeric data
identification of a driver or machine operator via an integrated driver id reader
display of incoming requests, vehicle data, messages, etc.
built-in speakers for audible warning sounds or driver-id confirmation sound
Apart from the basic navigation function, devices in the Garmin® nüvi® series can be used as a display for the inViu pro software messenger plugin, supporting communication between the driver and the dispatch centre.
In addition to basic navigation function, the dispatch can send the driver a destination address, and the route can be shown directly to the driver. Garmin® dezl™ 560LT was specially developed for use in the trucking industry. Practical and multifunctional, it takes the following factors into consideration for flawless route planning.
current clearance heights
axle and gross vehicle weight
nature of load
NAVTEQ Traffic™ premium traffic information
creation of user-defined truck profiles, such as vehicle type and load
connection for a rear-view camera
powerful speakers
Bluetooth® hands-free and active support
map details for 44 countries in Europe
Packaged combos
ENAiKOON display +
ENAiKOON locate-06
+
inViu pro
+
ENAiKOON staff-tracker
= exact GPS positions and routes, reports like working hours, break times, as well as the activities of vehicles and employees displayed on a map overview, saves time and money.