ENAiKOON
time-29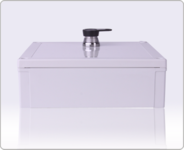 The ENAiKOON time-29 was designed to record and monitor the attendance, working hours, breaks, and job completion of mobile employees at any location in the world with mobile phone reception. The monitoring can take place on a job site or any other remote location far away from the head office or manufacturing centre.
In the field
Great for any industry with mobile personnel (eg. on-site construction workers). Also used by companies that hire subcontractors and temporary employees as the hours worked by these workers can be adjusted according to the actual hours worked.
Main Features
Offers GPS tracking in addition to remote monitoring, making remote management of mobile workers possible. This device records the attendance and working hours of mobile workers and subcontractors. Have the option to add an ENAiKOON buzzer for an audible verification of clocking in.
Technical details
power supply: 220 V or 8 to 31 VDC
waterproof (IP67)
includes antennas
includes 2 ENAiKOON iButtons
Packaged combos
ENAiKOON time-29 + ENAiKOON iButton +
inViu pro
= easy employee identification, reports with accounting information for jobs performed, and the recording of working hours, breaks, and location
Optional accessories