Being a developer of several successful Android apps and having an increasing focus on mobile use, ENAiKOON will be attending the
Mobile World Congress
this year in Barcelona, Spain. From 24 – 27 February 2014, GSMA will be bringing the mobile industry together with its world-class event held at the Fira Gran Via. With over 1,700 companies participating in the exhibition, the tradeshow is expecting more than 72,000 attendees. Key players in the industry will be showcasing new technologies and how it will shape future mobile use. At ENAiKOON, we are staying ahead of the game, being aware of the impact of mobile use and new technologies in telematics – especially for businesses. The evolution of
inViu routes
, for instance, exemplifies the importance of mobile integration into fleet and logistics management. The development of
inViu NFC-tracker
explores the countless options presented by the technology of NFC, such as mobile worker, guard patrol, and health care management. Here are some of our key mobile apps:
inViu routes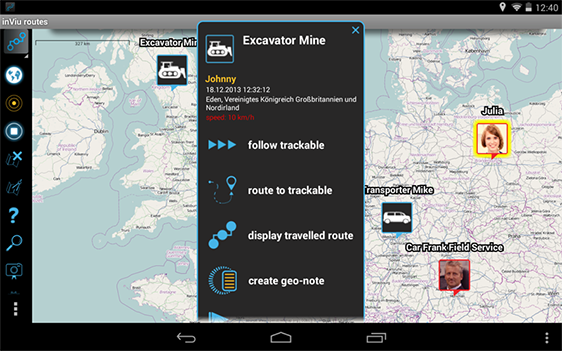 inViu routes is a practical and affordable GPS tracking app that turns your smartphone into a GPS tracking device. Part of ENAiKOON's complete inViu tracking system, the app connects with the free online web portal, inViu web, to track mobile workers, family, friends, and other mobile assets online or within the app. Use it alongside inViu pro for a more robust business use, perfect for fleet management in the transport, logistics, and construction industries. Its customisable menus, intuitive user interface, and clear icons make this app easy to use for both business and private users.
Download the app here
.
inViu NFC-tracker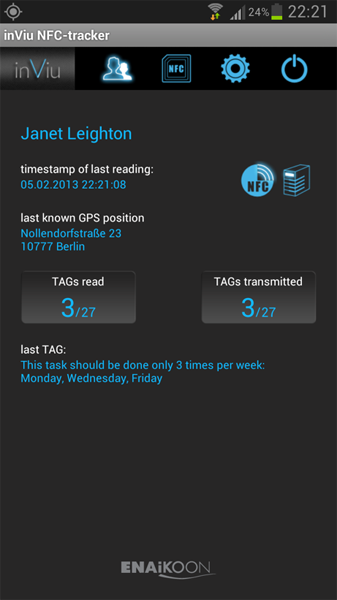 inViu NFC-tracker will read all NFC tags with your NFC enabled Android device. It displays the tag's worldwide unique tag number as well as all of the information stored on it. Use the app along with inViu pro in order to track mobile workers without using GPS. This technology is great for monitoring employees in the security, health care, and retail industries.
Download the app here
. Representing ENAiKOON at the Mobile World Congress will be the Director of International Accounts, Marie Dennis. She will be available to discuss the features of inViu apps, potential partnerships, and reseller opportunities. Connect with Marie to set up a meeting in Barcelona via
email
.