Equipment rental is a relatively new yet rapidly growing industry with some international companies turning over €1 billion annually. The reasons behind its popularity are capital release, range of equipment availability, maintenance, and compliance with standards and regulations. This explains the uptick in telematics sales within this industry, as GPS tracking of equipment can help with the latter two reasons.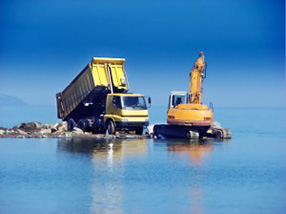 A comprehensive telematics system for construction equipment can retrieve all the necessary data to run a flawless maintenance program. The equipment data collected and its analysis make complying with regulations a breeze. Furthermore, having an accurate log of equipment use and location allows rental companies to run a smooth operation. Let's take a look at how Eberle-Hald improved their business with ENAiKOON's equipment monitoring system.
Construction equipment rental management at Eberle-Hald

Eberle-Hald is one of the biggest construction equipment rental companies in Stuttgart, southern Germany. They have been using ENAiKOON's telematics solution since 2007. Since then, more than 300 GPS devices are being used at nine different branches. "Access to equipment data, such as operating hours, battery condition, and loading times, at any time is of the utmost importance to us," says Michael Busch, the company's rental manager. "If technical problems occur, our emergency service staff will need to quickly identify the problem in order to make the equipment operational again." The ENAiKOON telematics system enabled them to produce precise rental contracts and customer invoices by knowing exactly where the equipment is located along with its time stamp. With
inViu pro
, the rental company receives real-time alerts and information on their rented equipment, and having an accurate account of equipment availability helped streamline their operations. Eberle-Hald even took ENAiKOON's inViu pro web portal one step further and integrated it for their customers to use. They gave their customers the option to see which equipment at which site is currently being used, allowing their renters to have the complete billing information to give to their own clients.
The ENAiKOON construction equipment monitoring solution
The flexible telematics solution that ENAiKOON offers can be tailored to each customer as exemplified in the above case. Start saving time, increase productivity, and improve rental equipment management with the
construction equipment monitoring system
. Contact
ENAiKOON
today for your free trial.