Commercial projects
The OSM map data is an important part of the ENAiKOON software. Many of their customers use maps on a daily basis to effectively dispatch their fleets.
The map data in OpenStreetMap can easily be extended to match your individual needs. Even if a specific industrial or residential zone is not yet visible on the map and you would like to uniquely identify a trackable's position in that zone, you are able to map and upload the data yourself. See the
OSM wiki
for more information on mapping.
Shortly after, the OSM will update the map with your uploaded data and show the trackable travelling along a road that you identified.



+49 30 397475-30

+49 30 397475-40
OSM integration in ENAiKOON inViu
inViu
is an internet portal that enables ENAiKOON customers to see where their trackables (vehicles, equipment, employees, etc.) are currently located and where they were at a specific time.
This is useful for the following applications:
Improvement of business processes Example: to send the closest available taxi to pick up a passenger.
Activity reports for customers Example: know whether the hazardous goods transporter really travelled along the designated route or straight through the water conservation area.
Employee monitoring Example: find out if employees were really at the building site until 4pm or if the foreman was correct in saying they left earlier.
Theft: Example: recovering stolen equipment, vehicles, and goods.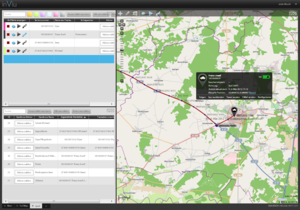 Reverse geocoding of a vehicle log based on OSM data
In some cases, ENAiKOON applications can display the current locations of trackables in a list form.
This is useful in creating a log of the tracking information received from a vehicle. This application requires that the GPS coordinates received from ENAiKOON's tracking devices are then translated into addresses.
To accommodate this, ENAiKOON has developed a reverse geocoding system based on the data in OpenStreetMap. Instead of a GPS coordinate, the precise address is displayed.