ENAiKOON
locate-60/61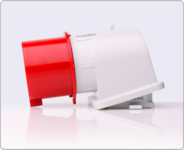 The patented ENAiKOON locate-60 is an ENAiKOON innovation. This GPS tracking device mounts inside a CEE plug, making it ideal for tracking valuable machinery and equipment while preventing theft. Being one of its kind, it was nominated for the 2010 Vodafone application award.
In the field
Widely used in the construction industry, including companies in manufacturing, equipment rental, and container services.
Product enhanced version

ENAiKOON
locate-60/61plus
permanent connection to a machine with the ability to transmit its operating hours and digital input status data.
Main features
This well-hidden tracking device transmits GPS positions, electrical equipment functionality data, and operating hours of the trackable. Concealed in a CEE plug, it can prevent theft by alerting the user of the trackable's exact location when it is moved. Simply place it into the object's CEE plug housing and fix it with screws for easy assembly. Can be used with batteries in machines without power supply or without batteries by drawing power from the connected machine's power supply.
ENAiKOON locate-60/61
stand-alone operation
does not evaluate the hours of operation
ENAiKOON locate-60/61 plus
220 V port on the CEE plug
evaluates the hours of operation
monitors all functions
Technical details
size: 83 x 59 x 52 mm
(3.26 x 2.32 x 2.05 in)
weight: 60 g (2.11 oz)
self-powered and operates with up to three re-chargeable batteries
re-chargeable with a micro USB connector
splash and waterproof housing (IP44)
optional: delivery with compatible CEE plug (5 x 32 GT 2600 series from Bals)
Made in Germany
Patented Tracking Device
The patent for locate-60 was approved by the German Patent and Trademark Office on January 26, 2012 under no. DE 10 2020 036 628 A1.
Packaged combos
ENAiKOON locate-60 +
inViu web
= pinpoint GPS tracking, theft prevention, and security
ENAiKOON locate-60/61plus +
inViu pro
= pinpoint GPS tracking and analysis of tracked object data, such as operating hours of the machine and details of the equipment functionality
Mobile phone software
inViu routes
displays the position of all trackables on an Android phone and sends the mobile phone's current position to inViu web or inViu pro